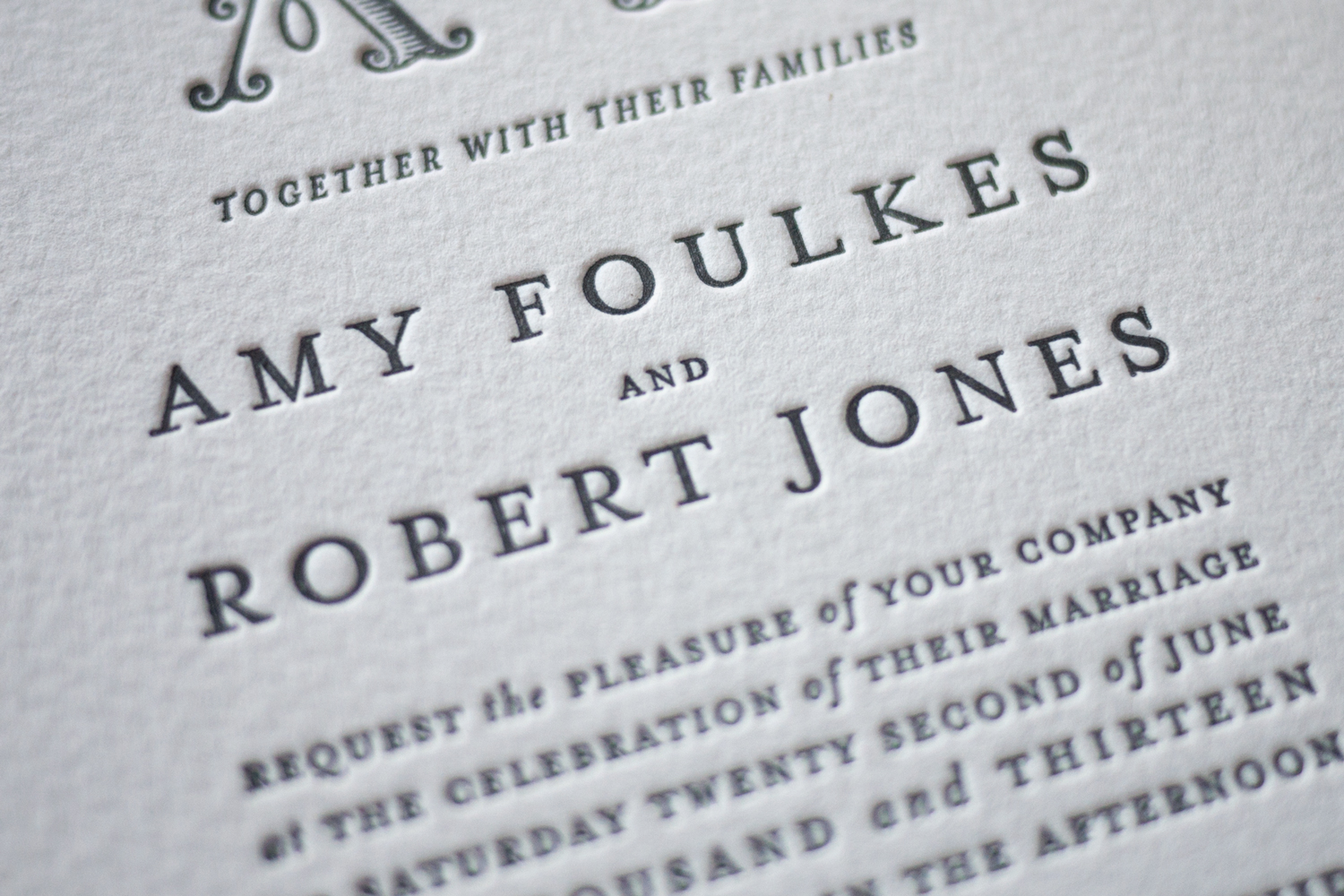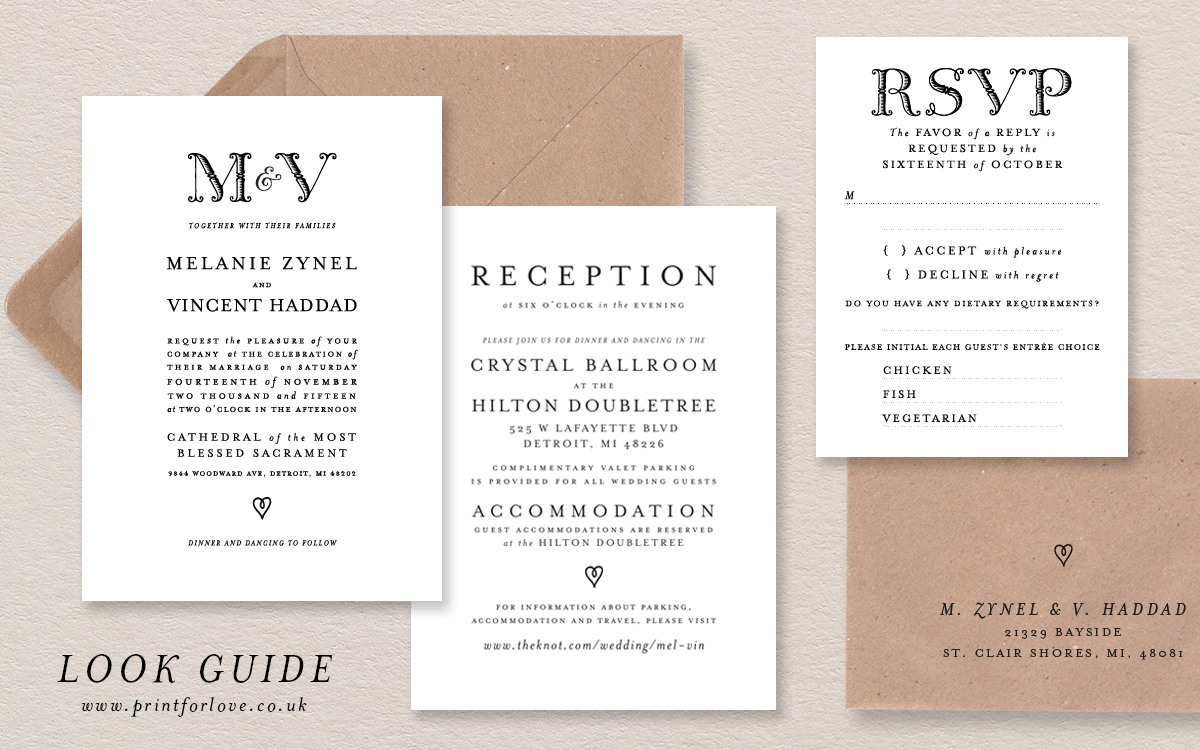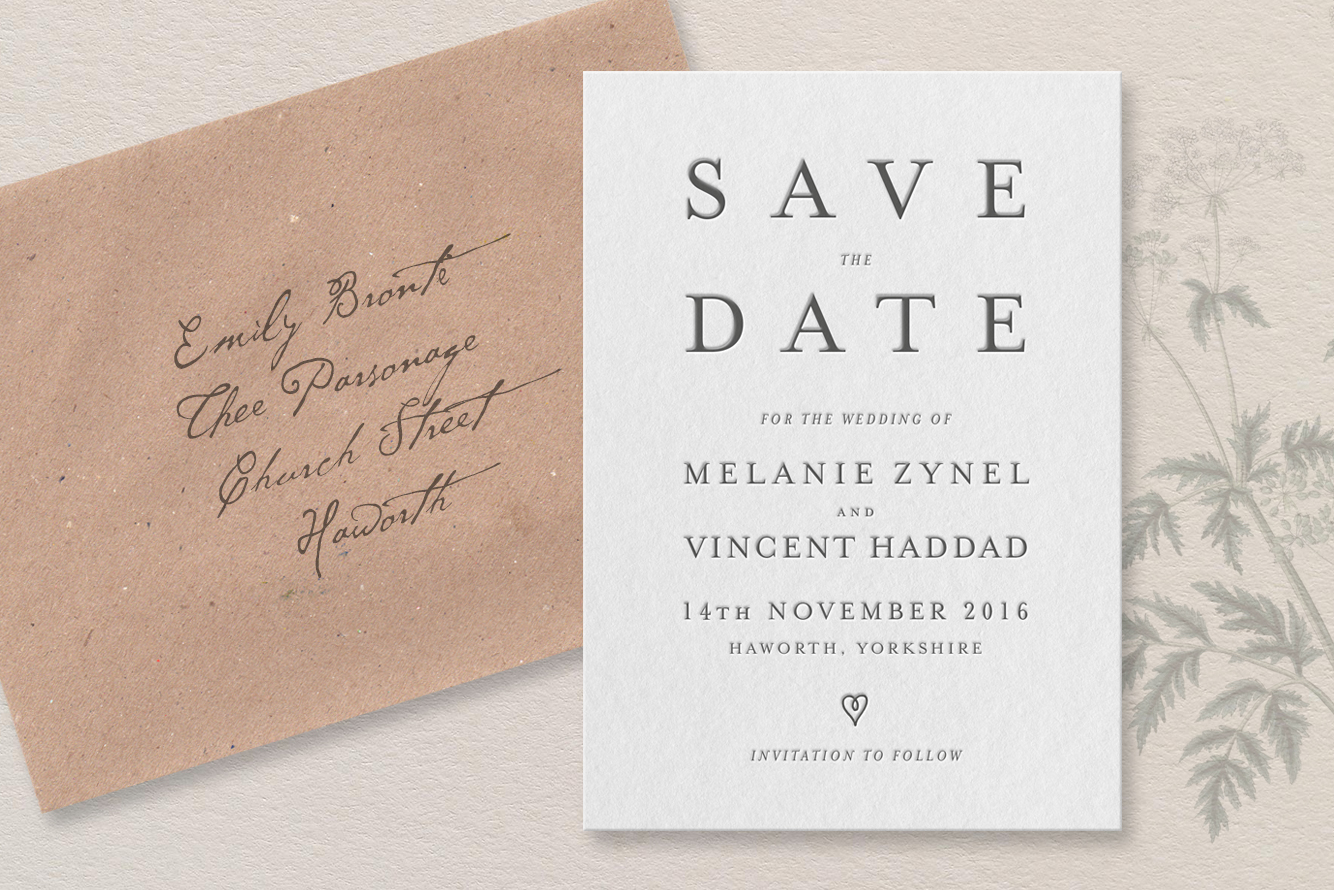 HAWORTH
HAWORTH is inspired by timeless typography, romantic novels, the slow life, foraging and gatherings. To go behind the scenes of creating the mood board and read all about the inspiration behind Haworth take a peak on the blog.
CUSTOMISE
Ink colours: available printed in one or two letterpress ink colours
Monogram and ornaments:
DESIGN TIP: The monogram can be exchanged for a motif from the collection. Or exchange the leaf ornaments for a heart and ampersand from the curated monograms and ornaments shown above, for a less woodland feel.
SPECIFICATION
MAIN IMAGE: Invitation 127 x 178mm printed in black ink on 425g cotton.
SAVE THE DATE: 105 x 148mm
A&T: Black and gold ink on 425g cotton with monogram and bespoke luxury handmade envelopes.
N&A - custom illustration of Temple Church London printed on olive green on 450g cotton
S&F LEEZ PRIORY: Bespoke amethyst 5x7" pocketfold, letterpress invitation in plum black ink with Leez priory Shield. Information cards digitally printed with vintage engraving of Leez priory.
EMMA & MARK: Look guide for Emma & Mark's folk festival wedding. Printed letterpress in teal on 425g cotton. A5 invitation, A6 RSVP, C6 Harvest envelopes. Digitally printed information wrap on premium recycled toothy paper. Wedding favour/thank you card: A6 William Shakespeare quote. Digitally printed A5 menu.
Photographs by Gemma McAuley Photography
Tall slim order of ceremony digitally printed, photograph by www.maureendupreez.com

S&L: Dusty blue and gold letterpress ink on 425g 100% cotton, kraft envelopes lined by Sam and Lori.
Co-ordinating stationery available. If you can't see what you are looking for just ask.
Save the date

Insert/details cards

RSVP

Thank you cards
Matching on the day stationery. More details avaiable here
Menus

Table plan

Table Plan cards

Table names

Table Numbers

Place cards

Escort cards

Order of service

Timeline
Finishing touches
Envelope liners

Bespoke envelope colours

Belly bands

Ribbon